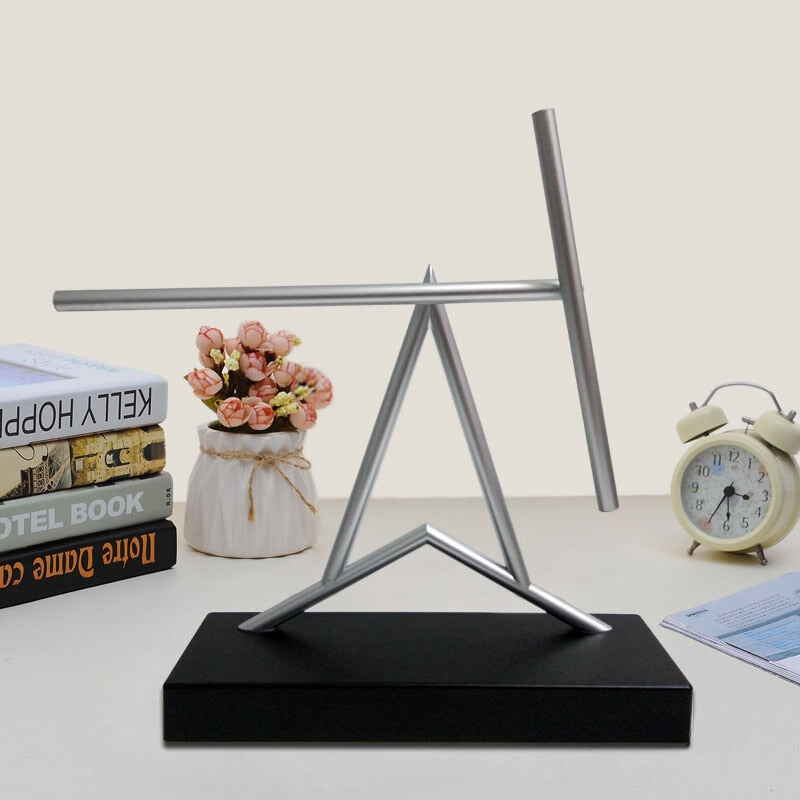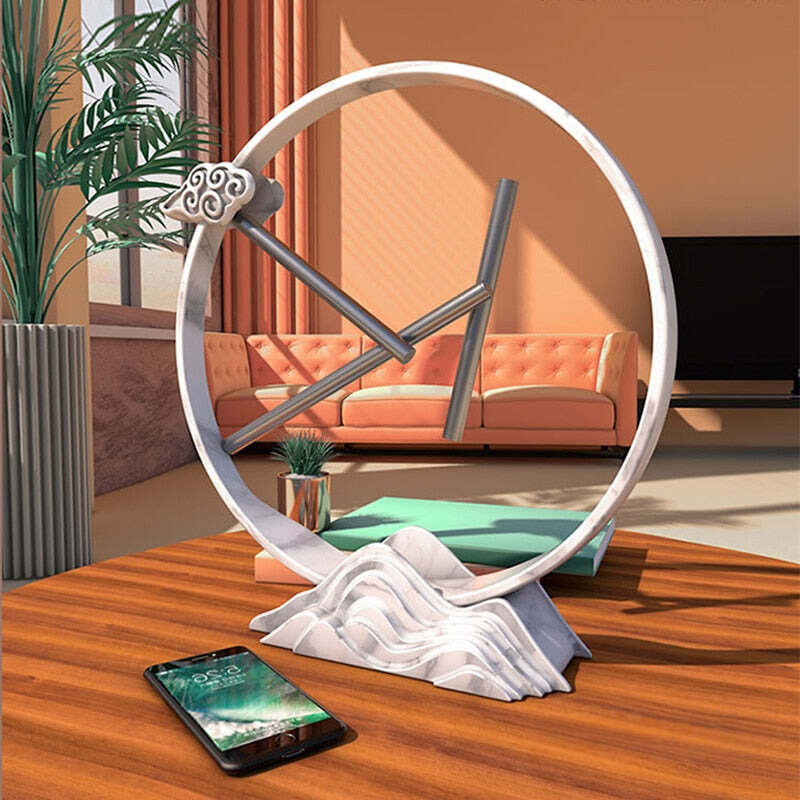 Stick Newton Pendulum
---
⚛ Delivery between 6 & 14 days
⚛ Satisfied or money back
⚛ Shipped within 48 hours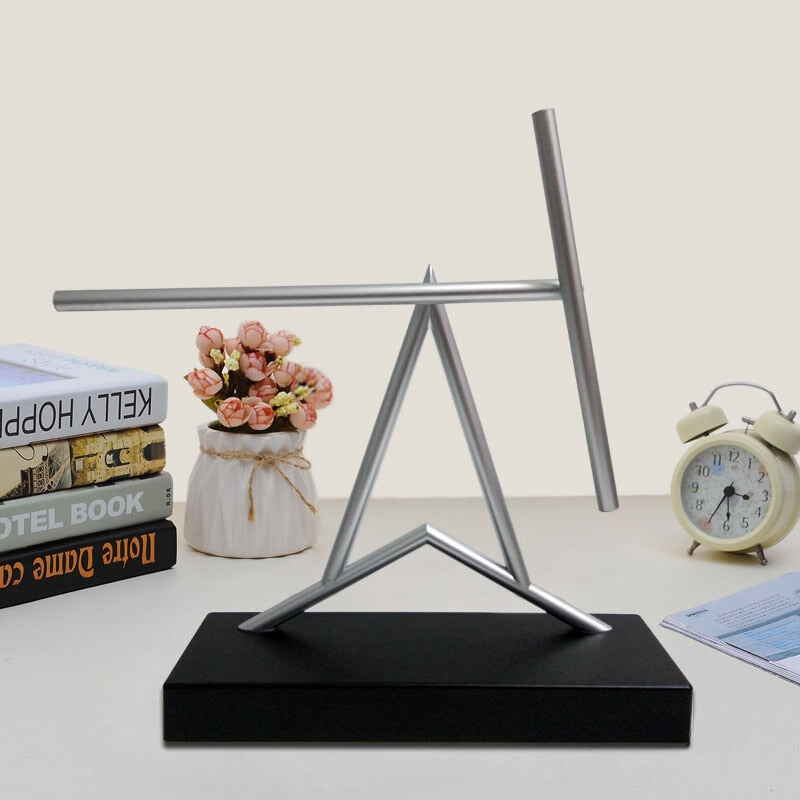 Discover the Fascination of the Stick Newton Pendulum: A Modern Science Decoration
Are you searching for a unique and captivating desk decoration that combines artistry and scientific wonder? Look no further than the Stick Newton Pendulum. With its mesmerizing motion and modern style, this pendulum serves as a captivating centerpiece that adds a touch of elegance and fascination to any space. Let's delve into the features and benefits of this remarkable science decoration and explore how it can transform your desk into a captivating scientific showcase.
Imagine the perfect blend of art, science, and modern style displayed on your desk. The Stick Newton Pendulum offers an intriguing and captivating experience, bringing the principles of physics to life in a beautifully designed decorative piece. This pendulum showcases the wonders of motion, creating a mesmerizing display that engages the mind and sparks curiosity. Join us as we delve into the captivating world of the Stick Newton Pendulum and discover why it's the ideal addition to your modern workspace
The Stick Newton Pendulum instantly captures attention with its sleek and minimalistic design. Crafted with precision and elegance, it features a thin metal rod suspended from a sturdy base. The simplicity of its design allows the focus to remain on the pendulum's mesmerizing motion. As it swings back and forth, the pendulum creates a captivating display that draws the eye and sparks a sense of wonder. Invite your colleagues, friends, and family to observe the hypnotic motion of this enchanting desk decoration.
Beyond its aesthetic appeal, the Stick Newton Pendulum offers a deeper connection to the principles of science. Inspired by Sir Isaac Newton's laws of motion, this pendulum demonstrates the fascinating concept of conservation of momentum and energy transfer. Watching the pendulum swing, observers can witness the exchange of kinetic and potential energy, gaining a greater understanding of the physical world. This decorative piece serves as a subtle reminder of the wonders of science, intriguing and captivating all who encounter it.
In addition to its scientific appeal, the Stick Newton Pendulum adds a touch of modern style to any space. Its sleek and minimalistic design effortlessly blends with contemporary decor, making it an excellent choice for modern workspaces, offices, or even home environments. The pendulum's clean lines and metallic finish exude elegance and sophistication, elevating the overall aesthetics of the space. Whether you have a minimalist theme or a more eclectic style, this desk decoration seamlessly integrates, becoming a focal point of admiration and conversation.
Ready to transform your desk into a captivating scientific showcase? Embrace the allure of the Stick Newton Pendulum and bring the wonders of physics to life in your workspace. Watch as the pendulum gracefully swings, reminding you of the timeless laws that govern our physical world. Create an atmosphere of curiosity and intellectual stimulation as you invite others to observe and contemplate the captivating motion of this modern science decoration. Elevate your workspace to new heights and let the Stick Newton Pendulum inspire your daily endeavors.
The Stick Newton Pendulum combines the beauty of art and the wonders of science into a captivating desk decoration. Its minimalistic design, coupled with the mesmerizing motion, creates an enchanting experience that engages the mind and sparks curiosity. Embrace the elegance of modern style while delving into the principles of physics with this remarkable pendulum. Add a touch of fascination and intellectual stimulation to your workspace and invite others to marvel at the captivating beauty of the Stick Newton Pendulum.
Features :
Finish : Metal
Style : Modern
Dimensions : 37cm x 36cm x 10cm
More scientific objects
You may also like...
Words from our customers
Perfect Newton Pendulum
Working in my office all day long, I bought myself a Newton Pendulum Pendulum. It's now one of my favorite decorating accessories, bringing a new style to my home.
Long live levitation!
In need of some greenery, I was looking for an original flower pot for my apartment, when I came across these levitating vases! An incredible purchase that I'm now paying a lot more attention to.
Science Gifts
Original online decorating ideas to create a stunning ambience. On-time delivery with regular information on delivery day. Products as ordered. All in perfect condition 👍
Beautiful Gems
Being passionate about geology, I was able to acquire beautiful gems and complete my collection ! 🪨
Science Fan
Our son is a big fan of astrology, after a lot of time spent surfing the net, we finally discovered the Science Decor website. What a delight for our little boy !
Best Purchase
Personally, I think the Galaxie projector is the best purchase I have made in a long time. Since I got it, I just want to spend every night watching it. It is so soothing and helps me fall asleep very quickly.
Desk Toys Fascinating
Perfect... impeccable email advice, easy ordering and timely delivery. These anti-stress objects are fascinating 🧲