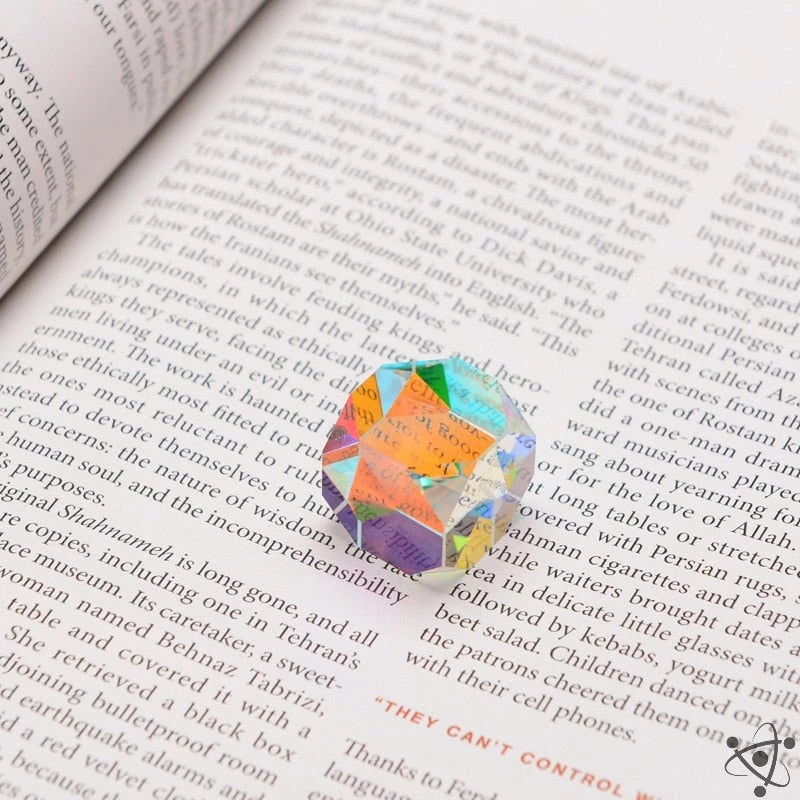 Optical Polyhedron Prism
---
⚛ Delivery between 6 & 14 days
⚛ Satisfied or money back
⚛ Shipped within 48 hours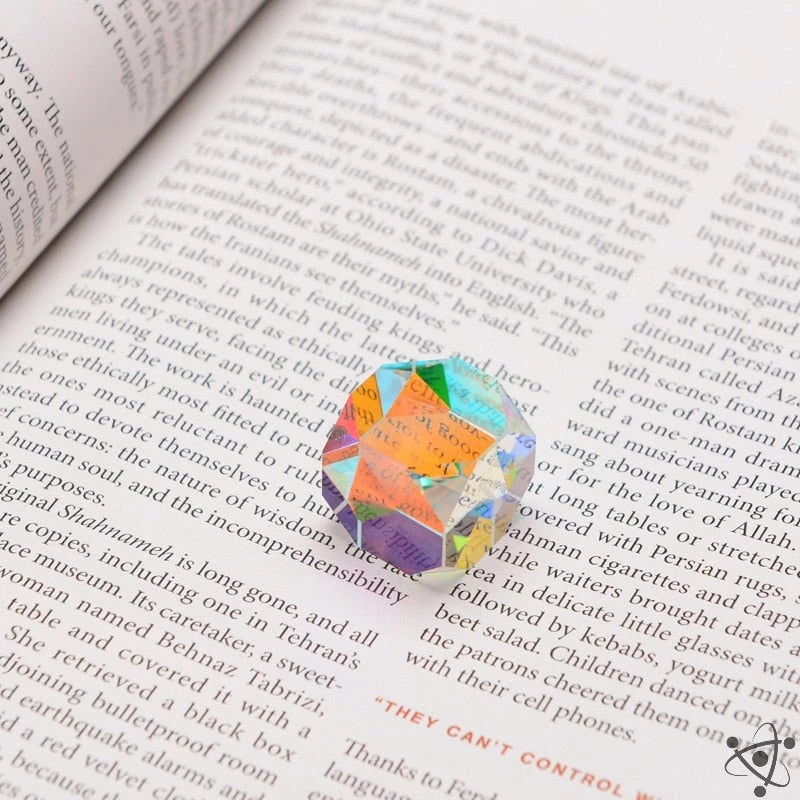 Experience the Beauty of Light with the Optical Polyhedron Prism
Introducing the Optical Polyhedron Prism: A Kaleidoscope of Colors
Step into a world of vibrant colors and mesmerizing light with the Optical Polyhedron Prism. This remarkable prism is a gateway to a kaleidoscope of hues and an exploration of optical wonders. With its unique polyhedron design, this prism allows you to witness the magical dispersion of light into a breathtaking rainbow spectrum. Join us as we delve into the fascinating features and possibilities of this optical masterpiece.
The Optical Polyhedron Prism immediately captures attention with its exquisite polyhedron structure. Its multiple facets reflect and refract light in a mesmerizing dance, creating a symphony of colors that captivate the eye. The play of light within this prism reveals the hidden beauty of the rainbow, inviting you to experience the wonder of nature's palette. Whether used as a decorative piece, a tool for educational purposes, or a source of inspiration for artists, the Optical Polyhedron Prism is sure to draw attention and spark curiosity.
Beyond its visual appeal, the Optical Polyhedron Prism offers an intriguing study of light and optics. By allowing light to pass through its precisely angled facets, this prism showcases the phenomenon of dispersion, where white light splits into its constituent colors. Witnessing this transformation evokes a sense of wonder and curiosity about the nature of light. The Optical Polyhedron Prism becomes a tool for exploration, enabling both children and adults to delve into the captivating science of optics in a hands-on and engaging way.
The desire to unravel the mysteries of light and color is further ignited by the Optical Polyhedron Prism. Crafted with high-quality materials, this prism ensures optimal light refraction and durability. Its compact size makes it easy to handle and explore, allowing you to bring the magic of rainbows wherever you go. Whether you're a student, a teacher, or an enthusiast of scientific phenomena, the Optical Polyhedron Prism becomes a must-have tool for understanding and appreciating the beauty of light.
Ready to witness the enchantment of rainbows and explore the fascinating world of optics? Embrace the Optical Polyhedron Prism and unlock a world of vibrant colors. Hold it up to sunlight, artificial light, or even a flashlight, and watch as the prism transforms ordinary light into a breathtaking display of the rainbow spectrum. Encourage young minds to experiment with light, spark their curiosity about the natural world, and inspire their creativity through the wonders of the Optical Polyhedron Prism. Whether used for educational purposes, artistic endeavors, or simply to marvel at the beauty of light, this prism becomes a tool of endless possibilities.
The Optical Polyhedron Prism is a gateway to a world of color and fascination. With its intricate polyhedron design and the mesmerizing play of light, it becomes a captivating tool for exploration and understanding. Whether you're an educator, a student, or simply someone who appreciates the beauty of rainbows, this prism adds a touch of magic and wonder to your life. So, bring the Optical Polyhedron Prism into your world and let the beauty of light unfold before your eyes. Experience the joy of witnessing rainbows, understanding optics, and appreciating the intricate wonders of our universe.
Features :
Finish : Glass

Style : Modern

Dimensions : 2cmx2cm
More scientific objects
You may also like...
Words from our customers
Perfect Newton Pendulum
Working in my office all day long, I bought myself a Newton Pendulum Pendulum. It's now one of my favorite decorating accessories, bringing a new style to my home.
Long live levitation!
In need of some greenery, I was looking for an original flower pot for my apartment, when I came across these levitating vases! An incredible purchase that I'm now paying a lot more attention to.
Science Gifts
Original online decorating ideas to create a stunning ambience. On-time delivery with regular information on delivery day. Products as ordered. All in perfect condition 👍
Beautiful Gems
Being passionate about geology, I was able to acquire beautiful gems and complete my collection ! 🪨
Science Fan
Our son is a big fan of astrology, after a lot of time spent surfing the net, we finally discovered the Science Decor website. What a delight for our little boy !
Best Purchase
Personally, I think the Galaxie projector is the best purchase I have made in a long time. Since I got it, I just want to spend every night watching it. It is so soothing and helps me fall asleep very quickly.
Desk Toys Fascinating
Perfect... impeccable email advice, easy ordering and timely delivery. These anti-stress objects are fascinating 🧲