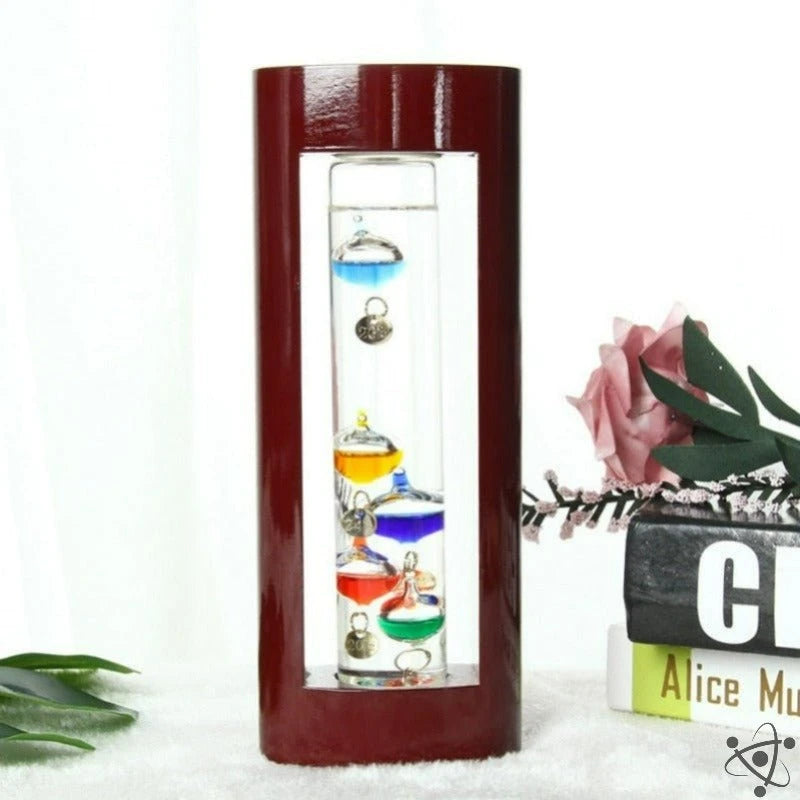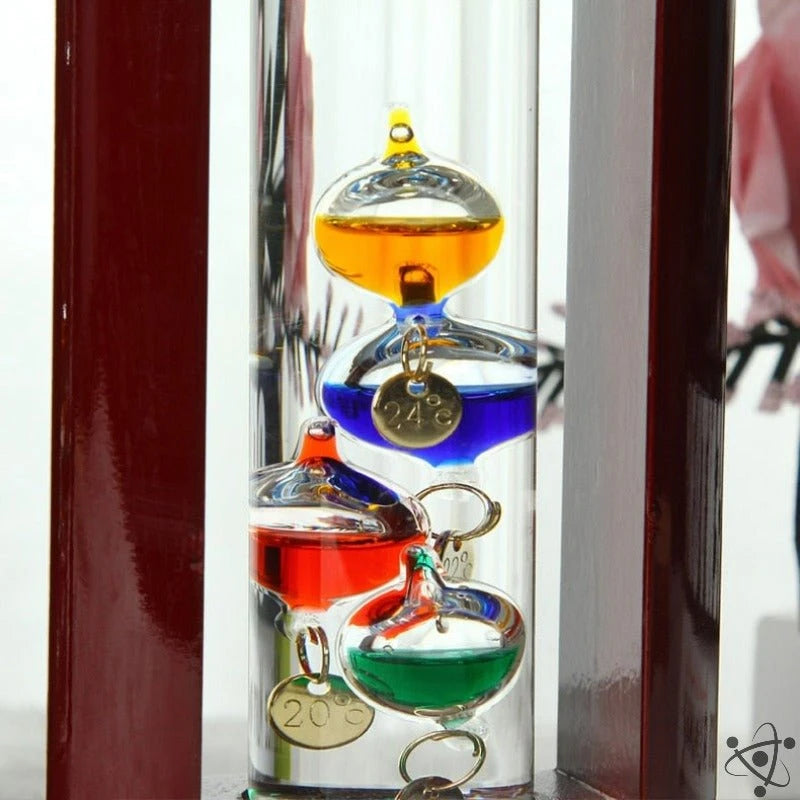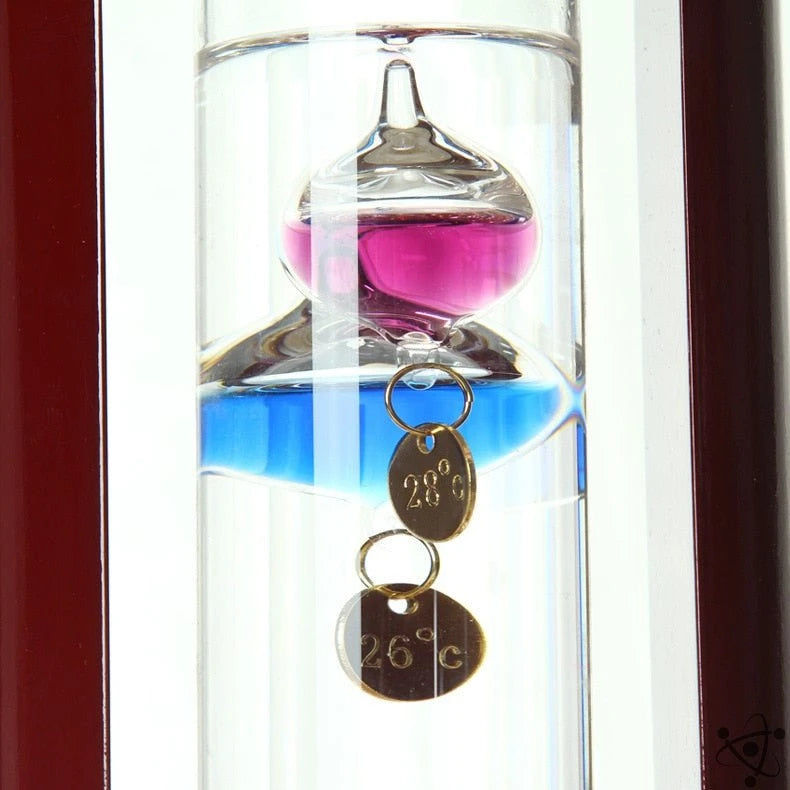 Galileo Thermometer
---
⚛ Delivery between 6 & 14 days
⚛ Satisfied or money back
⚛ Shipped within 48 hours
Discover the Fascinating Galileo Thermometer: An Elegant and Functional Instrument
Are you in search of a unique and captivating way to measure temperature? Look no further than the Galileo Thermometer. This remarkable instrument not only provides accurate temperature readings but also serves as an exquisite decorative piece. In this article, we will explore the fascinating world of the Galileo Thermometer, highlighting its history, functionality, and aesthetic appeal. Get ready to be enchanted by this captivating blend of science and art.
The Galileo Thermometer is named after the renowned Italian physicist Galileo Galilei, who made significant contributions to the field of thermodynamics. This beautifully crafted instrument consists of a glass cylinder filled with a clear liquid and several glass spheres of different densities. The spheres, each containing a small metal tag, are carefully calibrated to respond to changes in temperature.
Imagine having a conversation starter that not only adds elegance to your living space but also provides practical utility. The Galileo Thermometer accomplishes both. With its mesmerizing floating spheres and precise temperature readings, it captures the attention and curiosity of anyone who encounters it. Whether you are a science enthusiast, an art lover, or simply someone who appreciates unique home decor, this instrument is sure to captivate your interest.
One of the most intriguing aspects of the Galileo Thermometer is its functionality. Unlike traditional mercury thermometers, the Galileo Thermometer uses the principles of buoyancy and density to measure temperature. As the ambient temperature changes, the liquid inside the cylinder expands or contracts, causing the spheres to rise or fall. By observing the position of the spheres, you can determine the approximate temperature with impressive accuracy.
Each glass sphere in the Galileo Thermometer contains a small metal tag that indicates the temperature it represents. The lowest sphere indicates the minimum temperature, while the highest sphere represents the maximum temperature. The tags are carefully calibrated, allowing for precise temperature readings within a specific range. This makes the Galileo Thermometer not only a beautiful decoration but also a functional instrument that can enhance your understanding of the surrounding environment.
The Galileo Thermometer's unique blend of art and science makes it a desirable addition to any space. Its elegant design and graceful floating spheres make it a visual delight, adding a touch of sophistication to your home, office, or any other environment. Whether placed on a desk, shelf, or mantelpiece, the Galileo Thermometer stands as a testament to both the beauty of nature and human ingenuity.
Moreover, the Galileo Thermometer makes for a thoughtful and memorable gift. It appeals to individuals with diverse interests, from science enthusiasts who appreciate its scientific principles to those who appreciate the aesthetics of its design. Whether it's for a special occasion or simply to show someone you care, the Galileo Thermometer is a gift that will leave a lasting impression.
Ready to experience the captivating world of the Galileo Thermometer? Discover our extensive collection of Galileo Thermometers, featuring various designs and sizes to suit your preferences. Whether you prefer a classic design or a modern interpretation, we have the perfect Galileo Thermometer to complement your style. Embrace the beauty of science and art combined in this elegant instrument, and bring a touch of wonder to your surroundings.
In conclusion, the Galileo Thermometer is much more than a mere temperature measuring device. It is a symbol of elegance, curiosity, and the harmonious blending of science and art. With its captivating design and precise functionality, it adds a touch of sophistication to any space while providing accurate temperature readings. Experience the enchantment of the Galileo Thermometer today and discover a world where science meets aesthetics.
Features :

Finish : ABS, Glass
Style : Modern
Dimensions : Large ; 

10cm x 6cm x 37cm, Medium ; 

9cm x 5cm x 28cm, Small ; 

9cm x 5cm x 23cm
More scientific objects
You may also like...
Words from our customers
Perfect Newton Pendulum
Working in my office all day long, I bought myself a Newton Pendulum Pendulum. It's now one of my favorite decorating accessories, bringing a new style to my home.
Long live levitation!
In need of some greenery, I was looking for an original flower pot for my apartment, when I came across these levitating vases! An incredible purchase that I'm now paying a lot more attention to.
Science Gifts
Original online decorating ideas to create a stunning ambience. On-time delivery with regular information on delivery day. Products as ordered. All in perfect condition 👍
Beautiful Gems
Being passionate about geology, I was able to acquire beautiful gems and complete my collection ! 🪨
Science Fan
Our son is a big fan of astrology, after a lot of time spent surfing the net, we finally discovered the Science Decor website. What a delight for our little boy !
Best Purchase
Personally, I think the Galaxie projector is the best purchase I have made in a long time. Since I got it, I just want to spend every night watching it. It is so soothing and helps me fall asleep very quickly.
Desk Toys Fascinating
Perfect... impeccable email advice, easy ordering and timely delivery. These anti-stress objects are fascinating 🧲